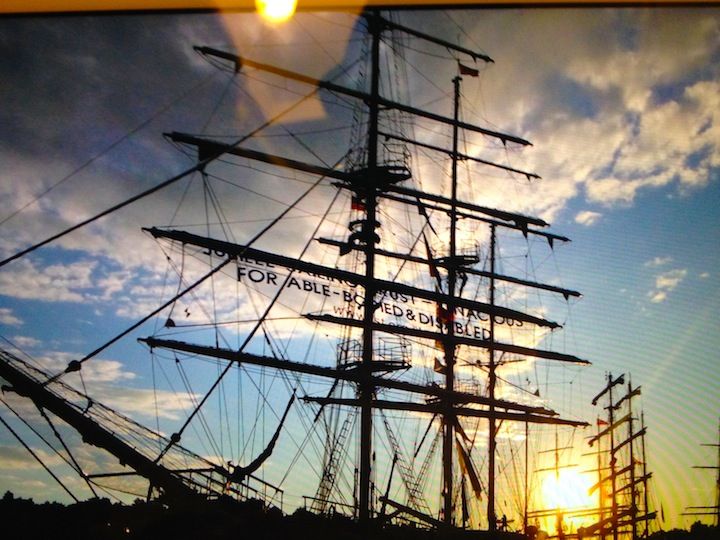 ARRRR!! We had a wonderful time at Tall Ships Races Fredrikstad 2014 in Norway!   The British Blue Buccaneers (Pete McLeod and Tracey Bearmore) and I arrived on Friday 11 July on the island if Isegran and were greeted by our new friends Bård and Tora from Norgesexpo, where we stayed in an historic house nestled in the grounds of Isegran's fort built in the 13th century.
   On Saturday evening we played our first concert, in the city center. With piratical tactics we coerced the Swedish Sea Shanty group Gråskägg (Grey Beard) to join us for the second half of our show. They were wonderful! Per played guitar on demand, and I forced Kai to follow me with a mic for my trombone solo. (Perhaps better unamplified!) We're hoping footage shows up soon, most likely so we can destroy the evidence. After the show we all returned to the house to sing into the wee hours. 
    On Sunday and Monday evening we played at a tent on Isegran, and after Monday's show we caught a ferry to board the English Tall Ship Tenacious, a turn of the century vessel refitted to allow for handicapped and blind crew, where we gave an acoustic concert at the invite of our new friends Nick and Sue, who were crewing on the leg to Bergen Tall Ships. A grand time and a wonderful tour of the ship! As midnight approached I hurried back to Isegran, where an orchestra was performing a live accompaniment to fireworks at 12, right over our house. Beautiful!
   On Tuesday we watched the Tall Ships leaving for Bergen, and in the evening played at a party for the volunteers at the festival, which was great fun. The volunteers, staff, and sound-people at this festival were absolutely wonderful, and It's a pity that the next Tall Ships race doesn't go there again for another 4 years.
    On Wednesday morning we arose with the sunset on a much quieter Isegran, greeted by a deer and a fox, and I drove the Pete and Tracey to Oslo to return to England until we reconvene in August.