Tom Mason and the Blue Buccaneers
     Tom Mason and the Blue Buccaneers are a wild band of Nashville musicians who dress like pirates and play a rollicking mix of piratical sing-alongs, rousing historical rave-ups, afro-cuban tinged ballads, Cajun sea shanties, and bluesy Irish jigs, transforming big festivals, performing arts centers, and urban nightclubs into bustling seaside taverns at the turn of the seventeenth century. 
Their newest CD, written with young pirates in mind, is 
"If You Want to be a Pirate: Songs for Young Buccaneers".
It's a kids CD that adults would appreciate, so it's full of humor, harmonies, stories, and solos, with all the mayhem and none of rum, murder, and sorrow that sometimes shows up in our songs. There are sing-alongs and dance moves, songs about a kraken, parrot, and an invisible crew (everyone needs one!), and a song or two about keeping the ocean and land clean.
   Tom Mason and the Blue Buccaneers' fourth CD is "Pirate Party", a completely uptempo collection including their interpretations of classic sea shanties, some rousing fiddle songs, and four of their own rowdy sing-alongs. "Blow The Man Down" is given a New Orleans parade feel, "Drunken Sailor" a Bo Diddley beat, and "Haul Away Joe" straight out rocks. The CD gives the band some room to stretch out and apply some of their bluesy roots and Tom's slide guitar to songs that have traditionally been sung a cappella. It's the perfect soundtrack to a pirate party, or any party for that matter. 
    The CD "The World is Ablaze" draws on the fact that pirates sailed the world around and pirate crews were an international lot, so their music would be a medley of styles plundered from all over. "Far Far Away" was inspired by the pirate Henry Avery and his crew, who set out as honest sailors but mutineered after going months without pay or adequate food. Avery's crew took a ship of the Mogul Emperor and legend has it Avery fell in love with one of the slaves on board, a tale told in the song "Tattooed Hand", accompanied by the sensuous rhythms of the Indian tabla drum. There's a klezmer-inspired "Mogul Ship" that give the violin free reign, the bluesy "Any Port in a Storm", and bagpipes ("The Likes of Me") and banjo ("Jimmy Gray")   
Their first CD "The Blue Buccaneer- Songs Inspired by the Golden Age of Pirates" is a rowdy and evocative work that transcends any aspect of novelty that one might expect at first glance. The songs conjure up a life on the seas in an era when the only hope for destitute sailors was to go "on the account", to become pirates. There are rousing sing-along drinking songs ("Pirate Song", "In The Drink"), piratical rave-ups ("Queen of the Spanish Main", "Say Goodbye"), and ballads that bear out the harsh realities of life on the sea ("Wondrous Wind", "Sail Away"). "In The Service of the King" is a lively tale of a sailor unwillingly pressed into service in the Royal Navy and his desertion to become a pirate. "Decked Out Like The Devil" is a piratical fashion show, in which Blackbeardian pirates dress to scare their victims into submission. Throughout the record, the excitement of Tom Mason & the Blue Buccaneers' live show is apparent, whether it be at a theater, on a festival stage, at a beach-side tavern, at a rowdy St Patricks day party, or, of course, on the deck of a brigantine sailing through the Caribbean.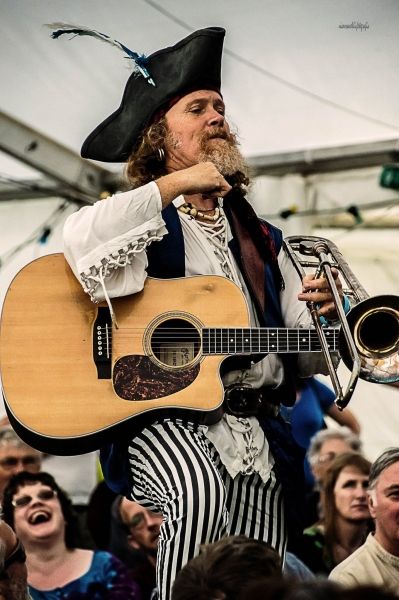 (photo by Viceversarobbi)
Every December Tom Mason and the Blue Buccaneers perform a show called "A Pirate's Christmas" based around their holiday CD. The title cut, "Yo Ho Ho, A Pirate's Christmas" tells the tale of the pirates meeting a curious captain dressed in red in the North Atlantic whose ship of toys was sinking due to the good behavior of children around the world, and despite risking their ruthless reputation, volunteer to help him save Christmas. During the holiday show audience members are pressed into service to sing along on the Blue Buccaneers' take on holiday classics, as well as being treated to some groovy versions of Christmas carols from "A Pirate's Christmas" and Tom Mason's instrumental CD "A Slide Guitar Christmas".  
 Tom Mason and the Blue Buccaneers take great pleasure in touring the world, and are always looking forwrad to their next voyage.  Festivals like the Billy Bowlegs Pirate Festival in Fort Walton Beach and The Minnesota State Fair keep having them back year after year because of our broad appeal combining excellent musicianship with family-friendly entertainment. Recent appearances include The Pilgrimage Festival in Franklin Tennessee, Bluegrass Underground in McMinnville,  and the Port Fairy Folk Festival in Victoria, Australia.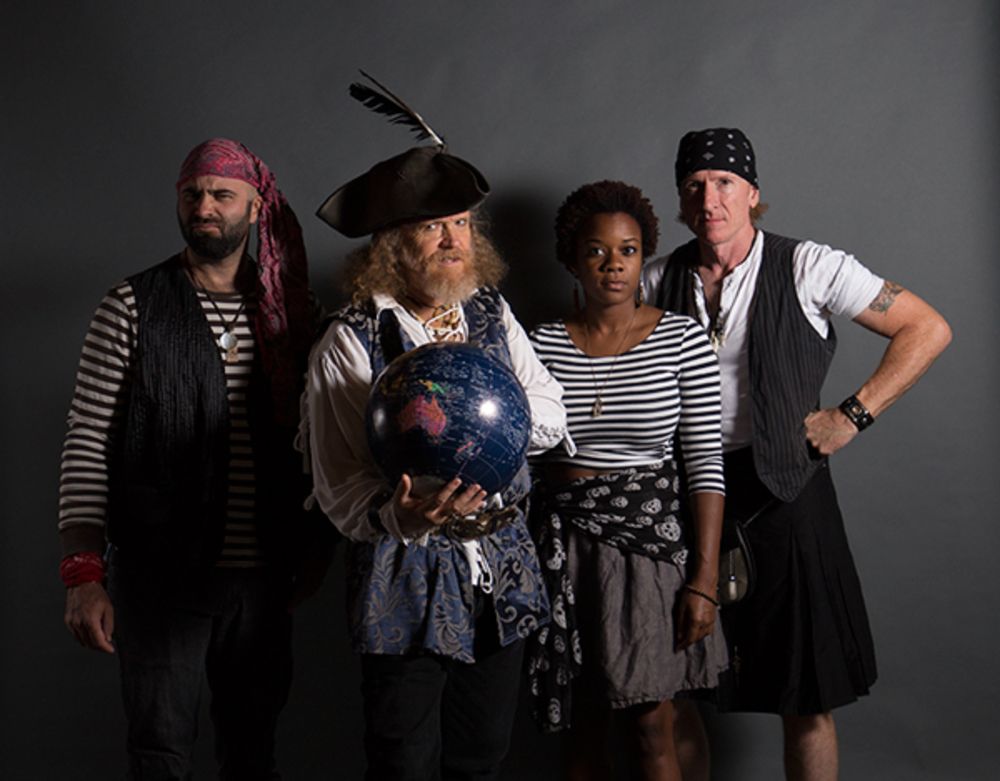 Photo by Kelli Dirks
   When not donning the tricorn hat with the Blue Buccaneers, Tom Mason tours as a solo act, entertaining crowds with his guitar and dobro playing, his musical story-telling, and songs from his recent solo CD "Salmagundi", an anthology of his non-nautical tunes like "I Thought I Heard a Train", "Chano Pozo's Shoes", "The World is Drunk", and a good bit of slide guitar. Be forewarned, though, his solo shows stray from the typical shoe-gazing sensitive singer-songwriter fare, owing as much to Vaudeville as Nashville.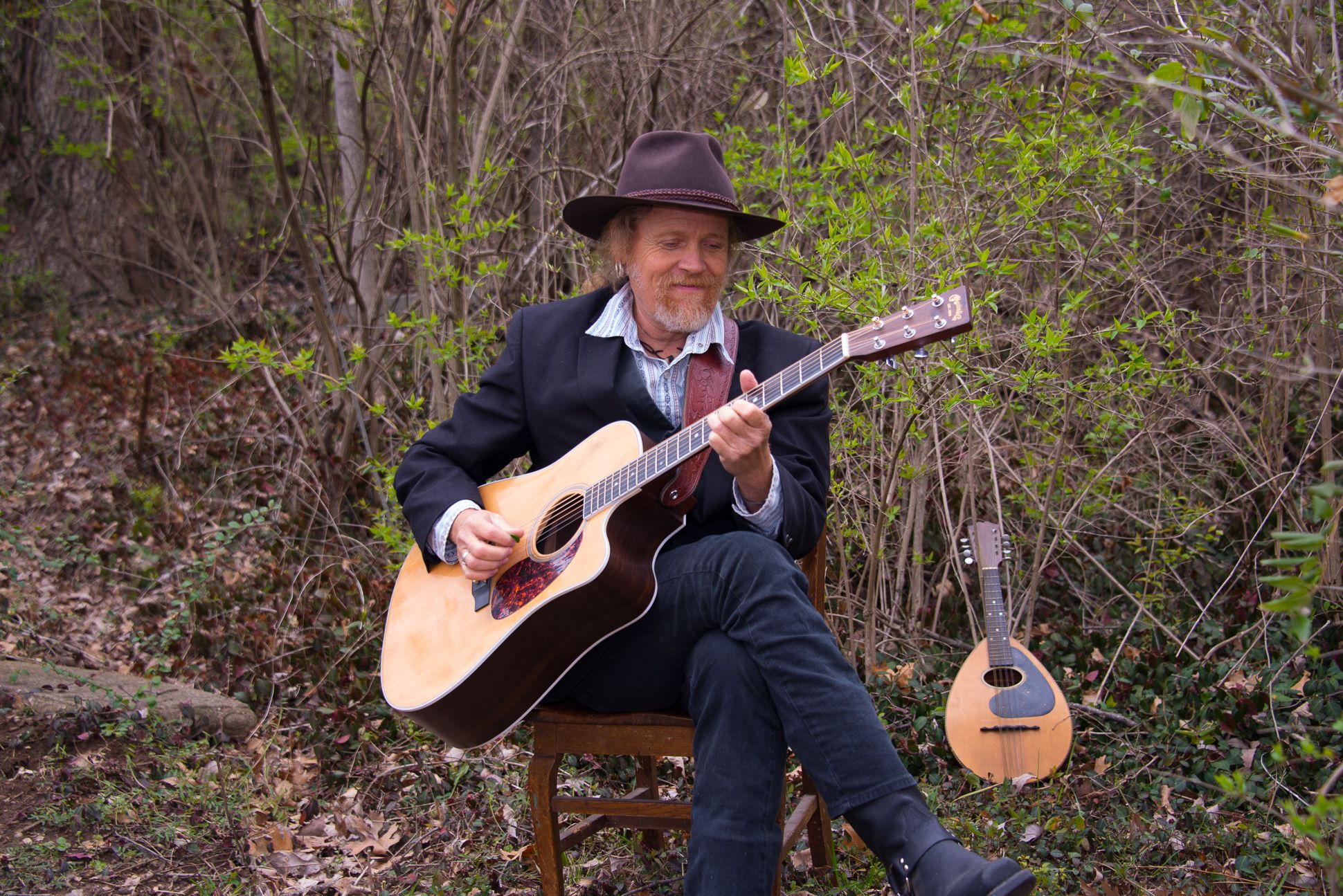 Photo Paul Schatzkin
Tom Mason has released seven CD's: "The World is Ablaze", "The Blue Buccaneer", "Salmagundi", "Alchemy", "Where Shadows Fall", "A Slide Guitar Christmas" (instrumental), and "A Pirate's Christmas". He has also released numerous collaborative CD's, including two by the Big Happy on Western Beat Records and one with Nashville's Lower Broadway stalwarts Swampgrass. He has been featured on such compilations as "For Kate's Sake: An Americana Christmas", "The Other Side: Music of East Nashville", and "Yuletide from the Other Side" and the new "East Nashville Volume 3". In addition to being a solo artist and bandleader, Tom Mason has played lead guitar for a multitude of artists. He  toured the US and Europe with Phil Lee,  played with D.C. favorites Last Train Home, and with Supe Granda of The Ozark Mountain Daredevils. As an actor, Tom treads the boards from coast to coast. He's performed in the National Tour of "Ring of Fire: The Music of Johnny Cash", and played Clarence in Nashville Shakespeare Festival's production of "Richard III". He has also acted in countless other regional productions, and was a guest artist at the Eugene O'Neill Theater Center's Cabaret Conference. Also active in film, Tom's most recent role was Shams in Pouria Montazeri's "Shams and Rumi: The Fragrance of Axis Mundi", a visually stunning film about the Persian poet Rumi's mystical transformation. Other roles have included kidnappers, drug dealers, the devil, pirates, and Dolly Parton's Dobro player in a Lifetime television movie. "The Blue Buccaneer" is a rollicking account of privateer life that brings together the many aspects of Tom Mason's storied career: singer, songwriter, actor, conjuror, and, yes, PIRATE!
TOM MASON BIO: FICTIONALIZED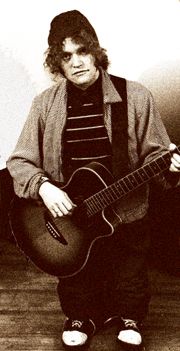 Tom Mason (b.1898 Theodore Mashowitz) was the youngest of seven children of Rudolf and Minnie Mashowitz, who immigrated from Prussia in 1892. Rudolf Mashowitz was the inventor of the home entertainment center,c.1895, which, due to the rarity of electronic devices at the time, failed to catch on for another seventy years. Recognizing her youngest son's talent, Minnie Mashowitz re-christened Theodore "Tiny Tommy Mason" and would routinely usher the seven year old onto the stage of a Vaudeville show while another act was performing, where the ever-charming carrot top would execute his masterful impression of a fish. Within months, posters of the mother and son were pasted on stage doors, and a star was born. = With the advent of the talking motion picture (1928) and the inevitable decline of Vaudeville, (and the proliferation of fish impersonators) , Tom dropped the "Tiny" from his moniker and began to prepare for the birth of rock and roll, spending the next three decades searching for the perfect pomade. By the time Elvis, Chuck Berry, and Little Richard burst onto the scene, Tom was already a legend in the Poconos, where his upbeat interpretation of "Why Not Minot?" was a hit among returning honeymooners. In the nineteen sixties, when psychedelia and the summer of love was sweeping the nation, Tom joined in on the fun and headed to Nashville, landing there in 1993.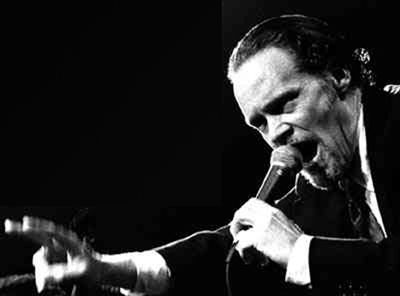 The right Reverend Thomas Ezekial Mason, (b. 1935 Cat's Paw, TN), followed in the footsteps of his father, spreading the gospel in the Church of Holy Matters and Pastry Suggestions. However, the budding preacher faltered in his libidinous teens, collecting the offerings at prayer meetings and spending them at dens of perdition. Cast off from the church and falling into a life of sin, he chanced to stumble into a roadhouse where the jukebox was playing Hank Williams' "I Saw the Light", and at that point returned to the church with a new ferver and began his long battle to have Hank canonized. Tom Mason (b.1972, Fort Wayne, Indiana) is best known for the discovery of "Alt- Country". "I can't remember what year it was, but I walked into a bar somewhere and saw this band who used to play punk rock singing a Hank Williams song, wearing cowboy hats, and talking in a really bad southern drawl". Mason had previously discovered Christian Rock (he was listening to the radio one day when he heard Stryper singing about Jesus), and is widely credited with the discovery of neo-facist talk radio (though some would dispute that, as he was never able to listen long enough to verify what he was hearing.) Among other innovations Mason has made in the music business are Standing-on-the-bar-with-a-microphone® and Offending-the-nice-couple from-Indianapolis®.
Thomas Mason, Butler: The story of how I came to be Alex McCollough's man-servant. Back in the early part of this century I was, believe it or not, and itinerant musician, and, like other entertainers of the time, would make little collections of song on what were called "compact discs". That was long before Mr. McCollough achieved the iconic stature he has today, and at the time he was the final person you would take your "discs" to before they were duplicated, and it was his job to make the "discs" sound good and cohesive, within the parameters of what he was given. (Ironically, and perhaps prophetically, this process was called "mastering" and the firm where he worked was called "Yes Master"!) Well, I had the good fortune of having my "compact discs" "mastered" by Mr McCollough, and the results were palpable, and one of the comments I received about the "compact discs" was that they were "masterfully mastered". Now here is the occurrence which I would like to relate that would change the course of my life, undoubtedly for the better: upon leaving the offices of Yes Master, Mr McCollough handed me the "disc" (a collection of songs about pirates), a piece of paper denoting the durations of the contents, and (most importantly!) a letter explaining the proper procedure for reviewing the "disc" before sending it to the factory. The last paragraph read "If you are crediting a mastering engineer, it should read "Alex McCollough at Yes Master, Nashville"". I was so excited to have had Mr McCollough work on my music (his job actually entailed listening to the music!) that I couldn't wait to get it out to the public! I hurriedly approved any artwork and sounds that accompanied the "disc", not realizing that I had credited someone else, a Mr "Alex McCullough" with mastering my "compact disc". It may be hard to imagine in this day and age, but the outcome of my blunder was disastrous! It was as if I had forgotten to place a specific bolt in the base of the Eiffel Tower, or used an inferior paint for the Sistine Chapel! The fallout may have lead to me being a broken man, but fate had another thing in store: years later, while being driven through our humble metropolis, Mr McCollough saw me pushing a shopping cart full of my belongings through Shelby Park, and asked his driver to slow down. His lordship took pity on me and sent the driver back to retrieve me, and to purchase this fine suit you see me wearing today. I can honestly say I shudder to think what depths my life would have sunk to had I not made that simple spelling mistake. All I can tell you is that these days I wake up to the sound of my alarm and smile when I'm reminded "I'm the butler for THE Alex McCollough"! Now, I must go, master's tea is getting cold!!