America!! Sept 12-Nov. 24 Okay! It's been a long time since I wrote here, and it's not due to some idea that Europe is superior to the United States. No, I've been traveling since I got back, writing, taking beautiful pictures, and loading them all onto my laptop computer. Unfortunately, my hard drive crashed, and all the pictures and words disappeared. But let me tell you, it was all great!! A day after I arrive, Dobe Newton, legendary Australian and lead singer of the Bushwhackers, Australia's greatest folk rock band, comes to visit for the Americana Music Association's conference. He's there representing Australian artists, and he has a new solo CD out entitled "A Convict Can't be Trusted". The Bushwhackers have been around for thurty some years and do for Australian folk music what the Pogues do for Irish. On Friday September 18th Red Beet Records held a Happy Hour Showcase celebrating the release of their 3rd East Nashville compilation, which includes my song "Chano Pozo's Shoes". I played with some help from Jim Gray, Paul Griffith, Kevin Gordon, and Eric Brace, and accompanied Phil Lee and Audrey Auld on their sets. Great fun, and saw a bunch of folks from near and far that I hadn't seen in a while. That Saturday night I was resting up for a Phil Lee show, an adjunct event during the AMA Conference, when Dobe called me up from 3rd and Lindsley to let me know an AMA act hadn't shown up, and to ask if I could do my part to come to the aid of Americana. I got out of bed, grabbed my instruments, shot over to 3rd & L, and jumped on stage. I coerced Wallflower and great guy Fred Eltringham to play guiro on "Chano Pozo's Shoes" and Dobe and Webb Wilder to sing on "The Pirate Song". After the set, I sped over to my gig with Phil at Douglas Corner. Imagine my surprise when Dobe showed me the Tennessean the following morning!
After a fine week of learning about Tennessee history from an Australian (Dobe), I caught a plane to Minneapolis/St. Paul to see my family and perform on a boat in the great Mississppi river. From there I flew to Pennsylvania for some gigs with Phil in the little town of Bethlehem (Godfrey Daniels, legendary spot) and the littler town of Barto (Landhaven B & B: tremendous!). Both were great, and we took a side trip to the Martin Guitar factory, where we were given the greatest tour ever by designer, artist rep, and long time Martin man Dick Boak. We met some great people in Pennsylvania, and played with a keyboard player named Gene who had been in a band with Phil when they were teenagers back in the 1860's. That Sunday we went into New York City and appeared on Dave Marsh's Sirius radio show and had lunch with Dave, his engineer, and an incredibly knowledgeable guest and good guy whose name is in my old hard drive. After a brief stop in Nashville, we headed down to New Orleans to play at a cool club called Chickie Wah Wah. We also toured the Voodoo Museum and had coffee and beignets at Cafe Du Monde, both Phil and I dressed in black, and somehow managing to avoid being totally covered in powdered sugar. From New Orleans we went to the Catfish Festival in Conroe Texas, meeting up with such dignitaries as Mike Smith, Mark Germino, Steve and Jubal Lee Young, Kevin and Dustin Welch, and some fine local folks whose names are hidden in my hard drive. From Conroe we were off to an extended stay in Austin. In addition to our gig at the Cactus Cafe with Steve Young, I got to do session with Steady Freddie Krc and go kayaking on Austin's Town Lake, where I was greeted by swans. (More fine photos lost for now.) After Austin we went to the legendary Blue Door in Oklahoma City, a great venue with only a blue door as a sign, a fact that hasn't kept it from being a successful venue for years. Greg Johnson and company have been hosting some of my favorite acts for years, as well as creating a tribute to Oklahoma's favorite son, Woody Guthrie. On Saturday we were off to the little town of Chester Arkansas, where for the second year running we played at Royal Wade Kimes' Trail Ride. A beautiful setting in northeast Arkansas, playing for genuine cowboys and cowgirls. After a few days home, I was off to Ashland and Harrisonburg Virginia with Last Train Home. It was the perfect weekend for a drive with Eric and Jimmy along the Blue Ridge mountains and through the back roads of Virginia, the autumn colors bursting. (I'll have to get some of Eric's photos, though he didn't have the one of me standing next to the town sign of "Cuckoo, Virginia".) Last Train Home's fans are the greatest, and responded with gusto when Eric threw me the spotlight for The Pirate Song, Chano Pozo, and other songs. After that weekend, I got to spend some long awaited time home, during which time my computer crashed and, on a better note, my wife Pru returned from seven weeks in Australia. The beginning of November brought another string of dates with Phil, starting in Fort Myers, Florida. We stayed with Phil's old friends Frank and Phillis Greathouse, who run a cool vintage guitar store in Fort Myers called Real Guitars. We played a few nights in Fort Myers and one in Sarasota, a benefit for the wonderful WSLR. Before leaving, we were given the coolest jacket ever by Woody Hanson. Woody's grandfather was a doctor who worked with the Seminole Indians, and Woody gave us each a beautiful jacket hand-sewn by the Seminoles.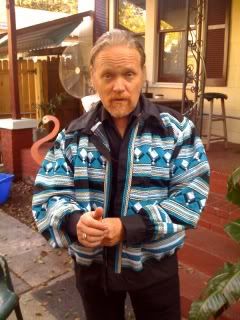 Tom in Seminole jacket c/o Woody Hanson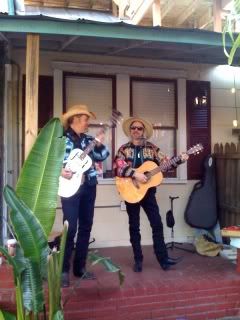 Tom and Phil in Seminole jackets c/o Woody Hanson Next it was up to Tampa for a pair of house concerts, the first given by the wonderful Susan Reiss and her Lunazoot House Concerts. Then it was off to our weekend digs and the site of out next gig, Gram's Place. Gram's Place is a cool sprawling hostel in Tampa started in 1991 by the late Mark Holland, a big fan of Gram Parsons, and now run by his brother Bruce. The rooms are spread out through two houses, with a funkily comfortable courtyard where we performed that Sunday afternoon. I highly recommend Gram's as a cheap and memorable place to stay on the road. Speaking of cheap and memorable places to stay, our lodging the next night, on the way to Savannah, Georgia, was the Hostel in the Forest, an environmentalist's dream destination, just outside of Brunswick. The rooms are all second-story dwellings nestled in the forest. The whole place is set up to create the least waste possible. The trails through the woods are covered in white sand and wildly shaped boardwalks, so that I was able to go on a nice walk at night. Every guest is required to perform a chore when they stay, whether it be sweeping, cleaning the communal kitchen, or maintaining trails. I woke up to the sound of roosters crowing, and when I played my guitar on my stairs in the morning, dozens of chickens gathered around. I believe I've found my demographic. Chicken-pickin'. Cock-rock. From there we went to the Beautiful town of Savannah. I'd been there a few years back when I was on the "Ring of Fire" tour, and had a few days to check out the historic district, rent a bicycle, and even go on a ghost tour. Phil and I played at the Sentient Bean coffeehouse on the edge of the historic district, and got a bit of a chance to roam around. After the show we had pizza at Vinnie Van Gogh's (great!) with Phil's old friend and one time Dylan guitarist Jack Sherman. The following night's gig in Raleigh was cancelled, so we blew off a guest spot that Thursday and headed home the next morning. After crossing the Georgia/Tennessee state line, I got a call from the Sommet Center in downtown Nashville, and my friend Nancy had been given an extra ticket to the Bruce Springsteen and the E Street Band concert. They put on the best show imaginable, playing the entire Born to Run album as well as plenty of requests, including an impromptu version of "Ring of Fire", a song I played hundreds of times as a cast member of the Broadway show of the same name. I had a great few days off, with a little time for recovery (I'd caught a cold in Florida, go figure) and on Saturday Phil and I headed back east to play at Bentz Kirby's Alien House Concert in Columbia South Carolina. After the long drive we had a wonderful time at Bentz's. The show was a gas, and we met a lot of cool new friends, including the other performer Elaine Townsend, who I joined on stage for a number and returned the favor by playing on "Pirate Song" and Phil's "Babylon". I'll gradually add more photos to these recollections, either from other sources or perhaps I can find a mad scientist to conjure up the ones on my old hard drive. But for now, I'm off to practice my Christmas songs!!