On Friday morning we went to the Belladrum Festival, held on a Victorian estate outside Beauly, Scotland, where we'd be camping over the weekend. Lugging all our belongings through the about-to-open fairgrounds to the Potting Shed stage, where Rob Ellen puts on his medicine show, a string of performances by up and coming artists, and a place for impromptu collaborations between artists. The area behind the stage was a cluster of tents and the Medicine Van, Rob's headquarters for the weekend. We stowed our stuff in a tent and walked off to find some good Scottish fair food, as well as chasing down the artist liaison for meal tickets. I opted to postpone the haggis experience, settling for some other local fare. When I got back to the Potting shed stage Tim Scott and Matt Morrow invited me and Australian transplant/slide guitar bluesman Gypsy Dave join them onstage. (I didn't taake any photos at Belladrum. Others did, and I'll find them.) After the set I was pulled away by the beautiful sound of a crazy Slavic sound and saw a troupe playing out in the open, dressed in black and red, playing the most alluring gypsy music on sousaphone, accordion, sax, trumpet, violin, clarinet and drums. They were entertaining a crowd and drumming up business for their performance at the Hothouse stage. They were wild, Pied Pipers of Hamelin to my inner rat. It was clear that I would have to divide my attention between them and Nashville comrade Tommy Womack's set at the Grass Roots stage. A few hours later Tommy, Phil and I, joined by Gypsy Dave, did a set called the Nashville All-Stars (not the first time I'd worked under that moniker), two songs apiece. Tommy played the first song I ever learned on guitar, the Velvet's "I'm Waiting for My Man" (thanks to my brother Chris), and during Jemima I ran to the truck and grabbed a bass and Mark Dean Ellen jumped on the drums. When my turn came Isaac Sutherland grabbed the bass for a full tilt version of "Little Walter". After our set I went to a great performance at a stage called "side burns", a celebration of the bicentennial of the writer Robert Burns birth, called The Burns Homecoming. I learned about it from Cross eyed gals accordionist /singer Lisa, whose husband Bruce Macgregor played fiddle for the performance. The performance started with the three musicians (Bruce, Andy on keyboards, and a fine acoustic guitarist) playing a few Scottish traditional numbers, and then they were joined by a singer and by an actor named Hamish, who read wonderful poems and stories in old Scottish inspired by Robert Burns. Though I could only understand half of what he was saying due to the old manner of speaking, ( even a Scot told me they didn't catch it all), the performance was incredible, and funny. There were touches of current events, like a rant about Bush and weapons of mass destruction, spoken in an ancient tongue, ending with a re-telling of Burns' hallucinatory tale Tam O'Shanty, with the audience hanging on every word that they could understand. Through the performance the musicians segued seamlessly from style to style, at one point moving from a cool noir jazz feel to a Scottish reel, and between spoken word pieces the singer sang beautiful songs, some familiar to the crowd and some not. The performance ended with the musicians playing some traditional Scottish fiddle tunes, and the crowd was invited to dance. Two women were standing next to me, Sue and Heather, on break from their booth that sold African drums and jewelry and didgeridoos, and Sue invited me out to do this extremely popular Scottish dance (before I had a chance to observe!), and was very patient with me as I twirled the wrong way, stepped on feet, and laughed as we danced around in circles with all the other couples. After half a haggis roll (these things take time), I caught a bit of Glen Tilbrook's great set, hit the potting stage again, and then found the Macdonalds, who graciously invited me to stay in their teepee. At Belladrum there is a camping area devoted to teepees that sleep up to ten people, and it was quite luxurious by festival standards, with a fire burning in the center to ward off the cold night.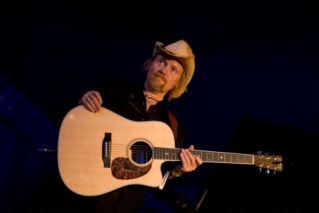 (Belladrum Concert Photos by Carol Keith - © eFestivals.co.uk) Saturday I showered (luxury!) and hunted down some coffee, wondered around the festival, and made it back for a fun set by Highland Cajun group the Cross-eyed gals, one of whom is Swedish (Sophie), and another who is not a gal (John, her husband), and I joined them on stage for the Randy Weeks song "Can't Let Go". I caught a bit of a cool young band 30 Miles to Breakfast future touring companions Robby Hecht and Carrie Elkin, Joe Cassidy and his band, and then went to warm up for Phil's big gig at the grassroots stage. The show went well, and we had enough room up on that stage for the Rockettes to join us for our big dance routine. After the show we were interviewed by Kriss Ritchie for Panda films, and then I went back to the potting stage to throw together a band of Scots for my abbreviated set. I had Phil on drums Gypsy Dave, Matt Morrow, Lisa & Sophie, and Isaac on bass, and the crowd singing along on the Pirate Song, I had a great time. After that Phil and I ran off to do a live radio interview (he played the tender "25 Mexicans" while the rock band on the main stage pounded away), and then were filmed by John Dingwall of the Glasgow daily record. After that, I took in several bits of performances, including a combination burlesque and drag show, and hung around solving the world's problems with my new friends. Sunday after striking the tents we climbed in Rob's Medicine Show Van with Carrie Elkin and Robbie Hecht and started heading towards Glasgow for a radio show, passing through the beautiful highlands, driving along Loch Ness (no monster) and Loch Lachy, and a quick look at Rob Roy's gravesite. Suddenly traffic stopped due to a motorcycle accident, and we were marooned with dozens and dozens of other cars in a picturesque mountain pass, complete with a bridge over a waterfall a quarter mile away. Rob made tea for us all and we broke out the guitars and took in the moment.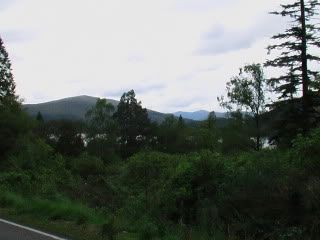 (Traffic jam location. Not so bad!) Needless to say, we didn't get to Glasgow in time for the interview, and soon we were consulting maps, GPS systems, oracles, and tea leaves to find our way to the coastal town of Largs, where we were to stay for the night above the Victoria Hotel, a venue to which we're returning on August 21st. We arrived to the last of the Sunday night revelers, and the owner Tam treated us like royalty opening the upstairs bar to us and running off to use his connections to procure us some pizza and Indian take-away long after the restaurants had closed. After a weekend camping in the midst of eight stages and twelve hours in the Medicine Van, the rooms above the bar suited us quite nicely. We had checked in during at midnight during a drizzling haze, and woke to a sunny day looking out over the Firth of Clyde (Firth being the Scottish word for a fjord or mouth of a river). I'm looking forward to our three day stint there.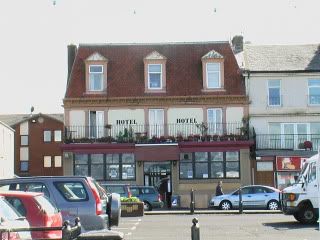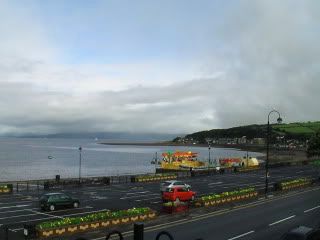 On Monday, with our ever capable ringleader Rob at the wheel, the five of us drove to Newcastle and to Tynemouth, where we played at a house concert in a great neighborhood two blocks from the waterfront. The next morning Robby and Carrie fled to Birmingham, and I went to the beach, took off my shoes, and had my feet massaged by the sea and sand, and then took a wander around the ruins of the Tynemouth Priory, which due to its loation still ad armaments from World War II, and over the centuries was attacked by a variety of adversaries.
(Me in front of my rustic fixer-upper)
(I feel like Slim Pickens!) Tuesday afternoon we took the short drive to Stanley and the South Causely Inn, a pub/hotel surrounded by stables, where we played at the Stanley folk club. Four local acts (including Jack B., the host) opened the show, and for the first time on this tour I did an entire opening set, which felt great playing for such an attentive crowd. Sue, a fiddler in one of the local acts, played a marvelous solo on the Pirate Song, graciously getting right up when I calle dher up from the crowd with no warning. She joined Phil and I again on Miller's Mill Pond. Rob graciously slept in the van and Phil and I slept in a tiny but plush room above the pub. Phil swore that a mouse was stirring through the night, but I think it was the pills he was taking.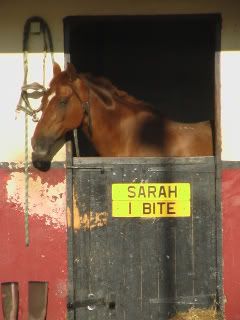 In the morning Rob fired up the Medicine Van stove, served up three hot cups of tea, and we were off on to London. Luckily Rob knows history, so the long drives nevr get dull. In London we went straight to Barry Everett's House of Mercy radio show, where we were greeted by super cool Barry, his partner Beck (a great blues singer), and a still-drunk-from-the-night-before Tenessean Dale Reno of Hayseed Dixie, shortly followed by Carrie and Robbie, fresh off a train from Birmingham. Barry had the four of us stand around the mike and take turns playing songs. Phil or Carrie, we're not sure which, invited Dale to play a little mandolin with us, which he gladly oblidged, though he was a bit more reluctant when we suggested that perhaps a tune might not be quite right for mandolin. From the upbeat bluegrass chucking on Phil's tender "25 Mexicans" to the upbeat bluegrass chucking on my Latin flavored "Chano Pozo's Shoes" to the upbeat bluegrass chucking on Carrie's tunes, Dale knew just what he thought the songs needed, even in his inebriated state. Well, whatever WE thought it sounded like, Barry loved it and had us do another round of songs. After the taping, we left London we drove two hours to Sheerness on the Isle of Sheppey on the west coast, the mouth of the Thames. It's a nice, unpretentious town pebble beaches, and sidewalks and bike paths that run the length of the levee, all the way down to the village of Minster. We went straight to a feast of Indian food, and then bunked down for some badly needed rest, Phil and I staying with Rob's ex sister-in-law Tina and her daughter Holly, who'd been with us at Belladrum, and Rob, Robby, and Carrie staying with Rob's brother Mark Dean Ellen.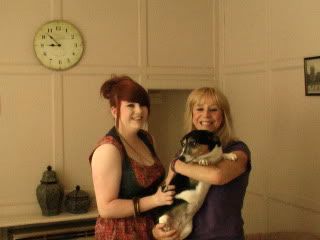 Holly & Tina, our gracious hosts in Sheerness The next morning Phil, Rob and I headed to London for the taping of Phil's debut on the Bob Harris show on BBC 2, probably the biggest country show on British radio, and we had a great time. Though I knew Bob Harris had a great reputation, I'd forgotten that he'd been a host on the inflential music television show "The Old Grey Whistle Test". He was great and very gracious, as was his producer Al, and Bob asked us about East Nashville, our home, which is getting a great reputation even outside of our neighborhood!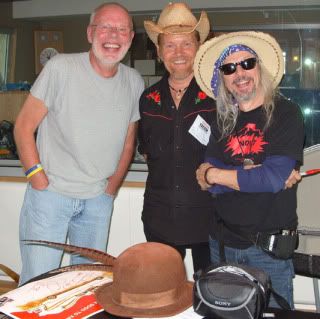 After the interview we went to our gig at the Green Note in Camden, with Robby, Carrie, and I doing short sets, followed by Phil's set. The Green Note is a cool venue run by two women Raisa and Immy, who were involved in another London venue, The Borderline. It reminded me of a Greenwich Village folk club (the ones I used to play with Dave Van Ronk, Ian and Sylvia, and Bobby), and the show was fun, despite me having to look at Phil's back the whole time (which may not be a bad thing.) On Friday the five of us were off to play in Brighton, the lively seaside city on England's south shore. Phil and I caught a cab downtown from the club, passing the incredible Turkish-style pavillion built by Prince Albert in the 19th Century, and by the turn of the century pier, lit up in amusement park grandeur. Downtown we went to Radio Reverb (radioreverb.com) for Del Day's show "Songs From The Ark", and had a fun interview, after which I handed Del my CD, which he swore would get played on his show frequently. Mike Lance (notnowfrank.com) had organized a show for us all in the upstairs of a hip pub called the Open House. Rob designated me emcee, and we had another fun show, at the end of which we bid adieu to our new family members Carrie and Robbie. On Saturday, Phil and I played at a coffee shop called the Grub Café in East Grindstead, a lovely town in Sussex, and on Sunday we went to Tunbolt Wells for an appearance on BBC's Radio Kent with Dave Cash. Dave Cash has a rich history in broadcasting was a DJ on pirate radio stations, rock and roll stations that would broadcast off ships to be out of the jurisdiction of the BBC and British regulations. When the BBC saw their popularity, they started a new station (Radio One) and hired some of the DJ's. Dave has an extensive web site, and the first thing you see is pirates!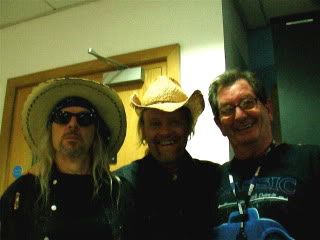 Phil Lee, Me, & Dave Cash @BBC Kent