On Thursday, August 27th, we arrived in the City of Cork, me sporting a bruise from the Blarney Stone. I loved the city immediately. It is Ireland's second largest city (200,000) after Dublin (2 million), and it has a great European feel to it. The Corner House Pub is off McCurtain Street, a lively place with bookstores, a great traditional Irish music store, coffee shops, a theatre, and plenty of pubs. We stopped at the venue and then went to the York St. B & B to check in, and met the lovely Monica and her three grandchildren, Rosey, Ruby, and Louie. They asked their grandmother if we were pirates, so we sat them down for an inspired version of "The Pirate Song".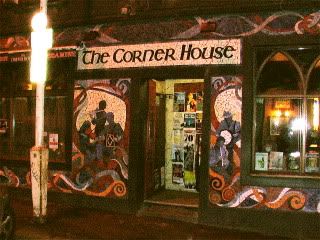 The Corner House Pub, Cork Phil's gig was put on by the Cork Blues Club, and they were an attentive audience, despite the roar of the crowd behind them. Our hosts were a blues trio, and we met some great folk, including Peter Harding, a big music fan who had stumbled across Phil's first record ten years ago. On Friday afternoon we drove down to the seaside town of Kinsale, parked in front of the pub where we were playing, and Rob and I walked up to tour Charles Fort, a structure built in the mid seventeenth century and used until the Irish republican rebels burned it in the 1920's. The fortitude and impenetrability of it led our tour guide call it a "monument to paranoia".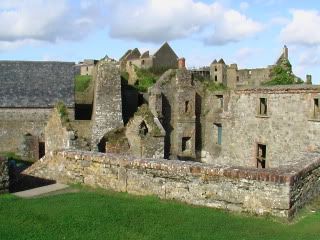 Charles Fort
Kinsale Harbor We returned to the pub in time for the sunset on the harbor, and I struck up a conversation with a wonderful 70 year-old chap named Michael, who cranked up a Sydney Bechet CD in his car while we watched the sun go down. The pub was nice, the people were nice, but the gig was a bit of a challenge due to the roar of conversation.
Michael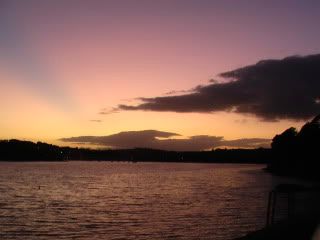 Kinsale Sunset The next day we meandered down to Peter Harding's shop, and he outfitted us with great Celtic design belts. His shop has that great leather smell, and is decorated with some of his favorite Albums, as well as an old photo of Dylan walking down a Paris Street. Though we were a bit late for Saturday market, the streets were alive, and it was a great day for a walk. Later we played at the LV pub, a last minute fill in show provided by good guy Ronnie Costley. There was a comedy show going on at the same time, and after we all finished I had nice conversation with a veteran comic named Pat O'Shea.
Peter Harding, Phil, Me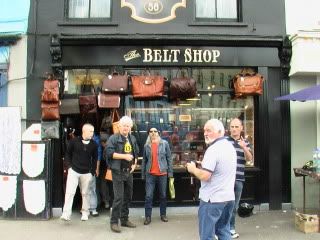 The Belt Shop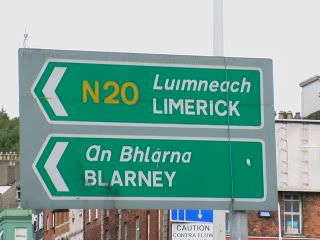 Sign in Cork The next few days were spent Kris-crossing Ireland, with Sunday in Dundalk, Monday in Galway, and Tuesday in Dublin. In Dundalk we played at a music venue called the Spirit Store, and before our set I sat in with the local weekly traditional music jam, who play every Sunday from 6-9. I tried my best to lay down chords behind the button accordionists and fiddlers, and they insisted I sing a few songs. In Galway we played at the legendary Roisin Dubh, and they put us up in a comfortable flat around the corner. Though I didn't get as much time to walk around Galway much, I loved what I saw, canals weaving through the town. I can't wait to go back. When we do, we'll try our best not to break the key off in the door of the flat again.
Galway Canal
The Roisin Dubh, Galway We arrived for our brief visit to Dublin late Tuesday afternoon, and it was electric. We were playing in the Temple Bar area near Trinity college, a wonderful mess of winding cobblestone streets filled with people. Dublin seems to have maintained it's Irishness while hosting a greatly varied international community. I just love the energy of a city of people crowding the streets on foot, out of the insulation of cars. We met up with two great Dubliners, Stephen Averill and Ronnie Norton, for an interview and photo session. We played a short set of Phil's tunes at a weekly benefit for the homeless called "The Ruby Sessions", and the large crowd was the most attentive we had in Ireland, so much so that when Phil's guitar didn't work during the first song, the whole place could hear us play it acoustically.
Ronnie & Stephen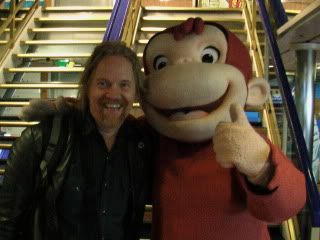 Me & My Monkey The following morning we caught the ferry from Roselear to Fishgard, Wales, a three hour ride. From Fishgard Rob drove all the way across Wales and England to London through a heavy rain trying to get to the Leytonstone Area of London for a show at What's Cookin'. After missing a few exits and creeping our way through the clogged London traffic, we made it to the club at 9:00, our scheduled time to play. There was a full house at this weekly event, held in the upstairs of the Sheep's Head pub, and the stage was decorated in a crazy fusion of Tex-Mex and funeral parlor, with a painting of Freddy Fender riding a horse behind the stage. We were sandwiched between Georgia songwriter Adam Klein and the Ugly Guys, London pub rock veterans who played revved-up Gram Parson inspired country rock. They wouldn't be that out of place on Nashville's Lower Broadway. Host and ringmaster Stephen Ferguson gets a good loyal crowd for What's Cookin', and promised us a few slots next time we're in London.
"The White Cliffs of Dover" (Liz Young sang beautifully of them in Nashville Shakespeare Festival's "Richard the Third") After a much needed day off in Sheerness, we boarded a ferry from Dover to Calais, a relatively short ride on what Rob called the world's busiest waterway. We took some time to enjoy our short time in France, and I practiced my French on Rob and Phil, who seemed quite impressed. (I was a little less eloquent when it came to speaking to people who knew French.)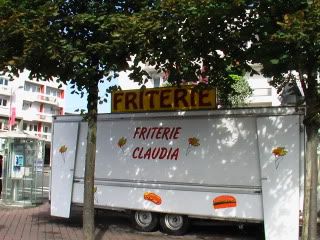 Friterie, which is French for "place to fritter away your time with Claudia"
The Pirates of Calais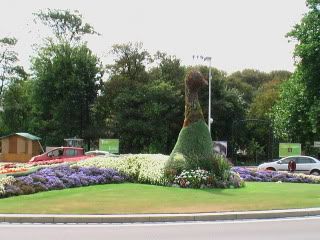 Calaisian Peacock On the way out of Calais we picked up a pair of hitch-hikers, a pair of young idealistic Brits named Marion and Sylvie, who were headed to Romania via Berlin. They had spent a few days in Calais, working at a squatter's camp of refugees who'd been denied entrance to the UK. They had a world changing spirit that I had at that age, when I hung out with anti-nuke protesters in the native American neighborhood of Minneapolis, though I seemed a whole lot more naive. We took them through Belgium and let them off outside Utrecht, during a brief lull in the rain. After a long day of driving we arrived in the northeast Netherlands town of Delfstijl, at the home of DJ Roel Stabler. We were greeted warmly by his wife Tineke their enormous dog "Dog", who is big enough for Phil to put a saddle on and ride to the next gig. We crossed the street to their neighbor Mario's garage in which he has a full bar. There over multiple drinks Tineke and Mario's partner Ina tried unsuccessfully to teach me to speak Dutch. They put us up for the night and in the morning gave us a feast before conducting a remote radio interview in their home.
Roel and Tineke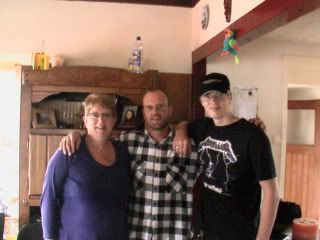 Ina, Mario, and Martin From there we went to another radio interview, with Johanna Bodde at Radio Winschoten. Johanna had really done her research, and after a lengthy interview we played four songs, including my "Ramblin'". From the studio window you could see the big old windmill in the center of town, a block away. I say "old" because Holland is filled with old windmills and new windmills, which I wouldn't be surprised if they powered the country, judging by the number.
Modern Dutch Windmills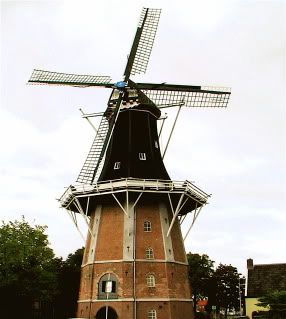 The windmill outside Radio Winschoten From Winschoten we drove somewhat circuitously to our evening show in Spijkerboor, stopping to ask directions a few time and even going so far as to buy a map. (Once again frittering our money away on luxuries like maps!) Spijkerboor is a tiny village and the venue, the Café t'Keerpunt was an inn at the end of a canal where the workers on the canal would spend the night. The audience was great, singing with gusto (in a foreign language!) on "The Pirate Song" and Phil's "Rat's Lips". After the show we stayed at the home of Jan and Maria in an even smaller village. Their home is beautiful, with a canal running through the back and a pair of horses in the yard.
Jan & Maria's back yard On Sunday we drove to Hoorn on the western peninsula of the Netherlands, crossing the Afsluitdijk, the 20 mile dike that was built in the 1930's, forming the big inland sea. I'm not going to pretend to understand it, but it has effectively changed what was once a huge bay into a lake fed by rivers, with a mixture of salt and fresh water. The ocean side is some twenty feet above the inland side, and from what I gather the levels are maintained by energy supplied by windmills and regulated by canals throughout the country.
Afsluitdijk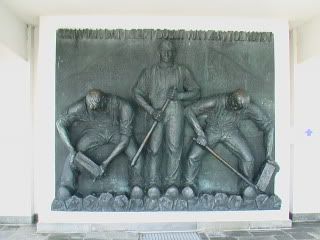 Dike builders We arrived in Hoorn, which was once a shipping center and home to some of Holland's wealthiest merchants. The sight of everyone riding bicycles made me feel like we'd arrived in some kind of Utopia. The organizer of the show, Nico, met us at the train station (on his bicycle!) and we followed him to his friend Hank's house, the site of the house concert. After the show Nico showed us around Hoorn, with it's winding cobblestone streets, old buildings built at an angle so that they seemed to lean in on the streets at the top, and the wonderful lack of traffic, apart from pedestrians and BICYCLES!! The streets were clean, the people looked healthy and happy, and I felt like I'd found a bit of heaven on earth.
Hoorn Canal
Hoorn Unicorn, their mascot. (I KNEW they existed!)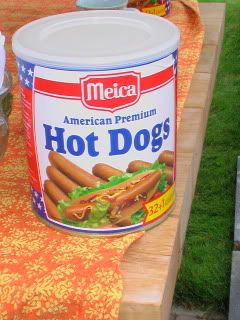 Dutch Quisine On Monday morning we set off for northwestern Germany to be interviewed by Hermann Lammars Meyer, a country DJ, songwriter, and steel guitarist. He took us to the ice cream parlor in his village, which served Ice Cream that looked like spaghetti, and then we went back to his house for an interview and some songs. After sitting down for a great German meal made by his wife Anka, Hermann, Phil and I sat on his back porch and recorded an hour of trading tunes for Rob's monthly radio program for ukcountryradio.com (including a German language version of "Up Against The Wall Redneck Mother"). Hermann and Anka have a great back yard abutted by a cornfield, and their apple tree bears the best apples I've had in years.
German Spaghetti Ice Cream
Hermann Lammars Meyer On Tuesday we returned to the Netherlands and the town of Leeuwarden to meet up with DJ Mathijn de Wit and his fiancé Ling. After a delicious vegetarian meal we all drove to Dokkum for his program Tuesday Night Americana Club. That night we crashed at their apartment, and woke up to a feast of pastries and great conversation.
Me, Martijn,Phil & Rob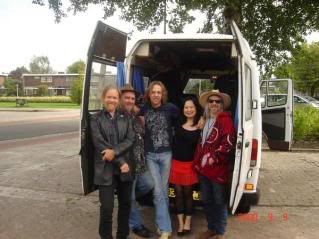 With Martijn and Ling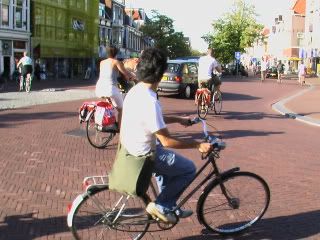 Dutch Bicycles Wednesday marked our last performance, in the fantastically named Bergen op Zoom in southern Holland, a live taping for Dutch radio also featuring the American blues-rock band Frank Carillo and the Bandeleros. We washed up at our host Bert van Kessel's house and then headed to the venue, nestled in an old part of a historic city, meeting up with the agent Joanna and radio presenter Jos. The program is taped in front of an audience in a building that's been around for centuries, and the neighboring dressing rooms were being used by actors of all skills donning medieval garb for the dress rehearsal of a massive outdoor theater production, taking place on three stages, two on the grounds of the castle a few blocks away. The enormous stage behind our building featured multiple levels and a two story projection screen that showed both traditional scenes of the canals and city, and films of the actors that moved the plot along. After our set Phil caught a part of the show that involved pyrotechnics, and later Rob and I saw some of the show, which was actually the dress/ tech rehearsal. One day I hope some philanthropist will give the Nashville Shakespeare Festival that kind of budget. (I'm crazy about outdoor theater, theater for the masses.) Later Bert played us some rare Sir Douglas Quintet recordings and he and I argued playfully about songwriting.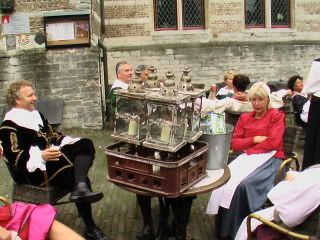 Bergen op Zoom actors
Bergen op Zoom Set
Bergen op Zoom dress rehearsal On Friday the three of us planned to celebrate the end of the tour by taking in some of Amsterdam, hitting the Van Gogh Museum and wandering the red light district, but the search for the ferry docks ruled that out, as the ferries actually leave from the town of Ijmueden, half an hour away. No matter, as the ferry itself was a fun, goofy experience in itself, a mini-cruise complete with a six piece cover band, a dance troupe, and a solo guitarist (all Bulgarian), and a karaoke show , as well as a cinema (of sorts), and plenty of decks on which to enjoy the North Sea air. The waves rocking me to sleep in our little cabin inspired me to get back to work on my sea-faring songs.
The Ferry to Newcastle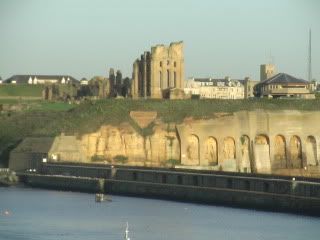 Tynemouth Priory from the sea, four weeks after seeing it by land. Friday we disembarked in Newcastle, and Rob began that final drive to Edinburgh, dropping Phil and I off at an airport hotel before heading back to the Highlands. What a great guy, just thrilled about music, exposing people all over to songwriters and musicians. Many a time on our tour he opted to sleep in the van, and he was at every show showing support and seeming to enjoy it, in the face of all the crankiness that comes with touring. He was a great tour guide, and I already miss that Scottish accent. The best part was that it was "See ya later" instead of "goodbye".
Rob waving goodbye. I found out that double-decker buses bound for downtown Edinburgh stopped every ten minutes outside our hotel, so after settling in I went to the city to take in Scotland (and the UK) one last time, and on that late Friday afternoon it was perfect, climbing the hill to the castle built into the rock above the city and wandering back on ancient cobblestone streets past pubs and parks, past the national gallery and other sites to take in on future visits, listening to accents and foreign tongues, and finally getting back on the bus, sitting in the front row of the top, and watching the sun set during the ride back to the airport hotel.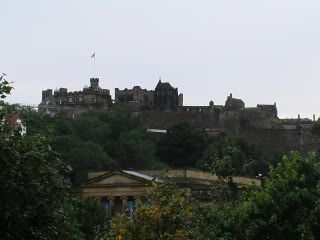 Edinburgh Castle
Edinburgh Streets
Edinburgh busker
Sunset. (The plane represents us leaving Scotland. However, we were not actually on that plane. I was standing in the grass taking the picture, and wouldn't leave until well after sunrise the next day.)