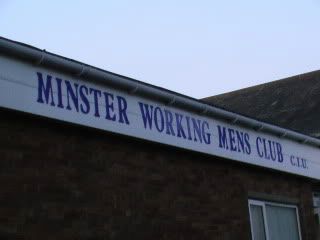 Minster Workingman's Club, Isle of Sheppey On Monday August 18th we performed at the Minster Folk Club, held at the Minster Working Men's Club (the irony of us performing there was not lost on Phil and me) on the Isle of Sheppey. The Working Men's Club is right next door to one of the oldest churches in England, the Minster Abbey, in a lovely hilltop town that looks over the sea on one side and the island on the other. The folk club meets in a room with an actual stage, and on our night five local singers each sang a song, I did a set, and then brought Phil up. It was great to hear the local blokes, including a folk trio, one who sang "Broke Down" by Rod Picott, and a version of "Sunday Morning Coming Down", a song which I still have yet to tire of after performing so many times in "Ring of Fire". They were a great audience, and (perhaps due to their proximity to the sea) were the best chorus yet for "The Pirate Song".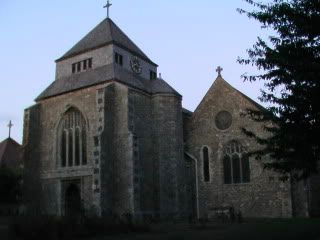 Minster Abbey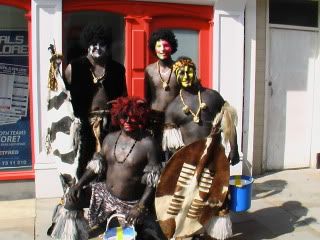 These guys were collecting money for the Sheerness town festival, a tradition that's been going on for years. Holly says they only still get away with it because Sheerness is an island, and that they scared her as a little girl. Scary is right.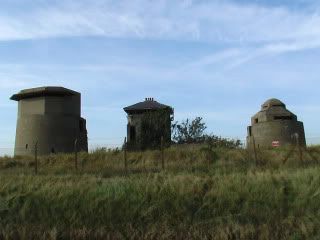 The Isle of Sheppey played a major role in WWII, and there are still reminders on the waterfront. On August 19th we left for York, a long drive in English, and were smooth sailing until we hit Doncaster, where the motorway was completely closed down due to a wreck. When we finally got to York, the satellite navigational system on Phil's phone (dubbed "the Oracle" by Rob) placed us across the river from the club, and after asking dozens of people where the club was and how to get close to it, Phil came back with the super friendly manager Joe, who climbed in and took us there. York is a beautiful Roman walled city with Yorkminster cathedral, and great tiny winding street like the shambles. Though York itself was kind of a madhouse due to the influx of drunken tourist there for the annual horse races, we played at a hip place called the basement bar, on the ground floor of a venue called City Screen which houses another venue, cinemas ,and restaurants. There were two opening acts besides myself, a filmmaker/bluesman named Alex, who reminded me of a very young John Koerner, and GT, who had an early Tom Waits vibe going. Upon hearing that we'd neglected to secure lodging for the night, GT offered up his flat, a temporary squat that's the caretaker flat of a great hotel that is under renovation. The Hotel is a block from Yorkminster Cathedral and right in the midst of the great scenic city centre of York. The four story hotel and its pub is called The Judges, as it was built in the early 1700's as the mansion of a Judge, and these days there is a great gated patio (where we parked the van) for the Pub, which is open during renovation and where GT sometimes works. After the gig we went there, divvied up beds and mattresses, Rob went to van to cook up some sandwiches, and GT, Joe, a gent named Johnny sat around with us listening to bootlegs and talking. In the morning the far-too-early beer delivery man woke us up, giving us a chance to see Yorkminster, get a guided tour of the Shambles by GT, and feast on fine breakfast and conversation with the publican Andy.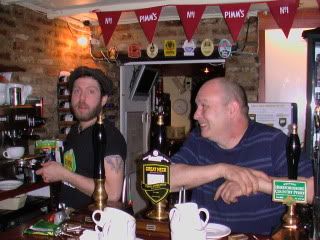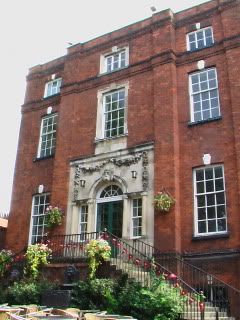 The Judges
York's Roman Wall
York Minster Cathedral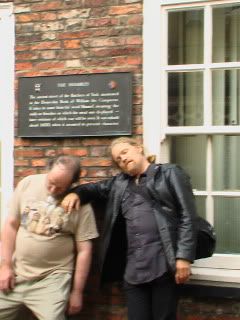 Rob & Tom in York On Thursday, August 20 we rode through the English countryside from Liverpool to Glasgow, through high rolling hills passing Jersey cows, sheep. Cloudy and a bit rainy, unlike the rest of our trip. Really lovely place, old stone walls, mountains or moors in the distance, the sea off to the side. On Wednesday we stayed in Little Neston, south of Liverpool and just north of Wales, with Phil and Leslie Norman (Phil and I ) and Billy and Pauline Norman (Rob), in ultra clean modern houses. Billy Mason and Phil Norman have a duo called Upturned Collar, and they got a lot of airplay on BBC Mercybeat radio (Billy Butler) with their recording of "Just Some Girl", struck a chord with many a scouse, so the four of us performed it on air yesterday. (It was so popular they aired it again the next day.) We went to a pub called the Harp and a Chinese restaurant that evening in Neston, the village south of Liverpool where they live, which overlooks the bog and river, and Wales in the distance.
BBC Merseyside, Liverpool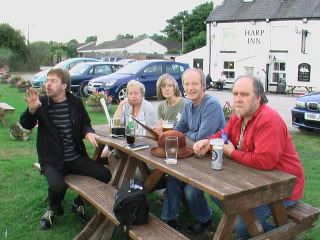 Phil N, Pauline, Leslie, Billy, and Rob, at Harp Inn Billy has a lovely tradition of giving traveling performers sandwiches, and both couples sent us away with a feast of all sorts: sandwiches, cheese sticks, shortbread, fruit, cokes and juice, and crisps. Next tour we'll make sure that Liverpool is on the way to every gig. We couldn't just speed away from Mecca, so we headed back into Liverpool and went to the Beatles Experience museum at the Albert docks. It's a great show, with a cool recreation of the Cavern, the office of Merseybeat magazine, and a special exhibit about John & Yoko's bed-in for peace. Even though I'm a big fan of the Beatles and always have been, I kept thinking about the excellent parody film Eric Idle did called "The Rutles: All You Need is Cash", especially the scene when their record sales rise dramatically when conservative protesters buy Rutles records in order to burn them. The night of August 20th we got into Glasgow for a radio show on Sunny Gavan Radio, and then headed back to Largs for a night's rest before a long weekend. We arrived in time for a late night Indian take-away feast provided by Victoria Hotel proprietor and music promoter Tam Skinner, and shared with some local musicians and regulars. Tam is a great guy and friend to musicians, even though at first glance he may seem like a long-haired Scottish gangster. There was a full weekend of music, with Phil and I opening for Baz Warne of the Stranglers in a quiet room on Friday, and all of us playing with London's Mick Kempe band on Saturday night, and on Sunday jamming with Mick Kempe's band and later some local guys, Johnny and Alf, as well as enjoying sets by Ronnie Costley and Stretch Dawson.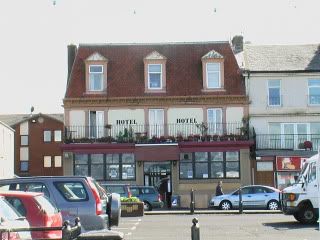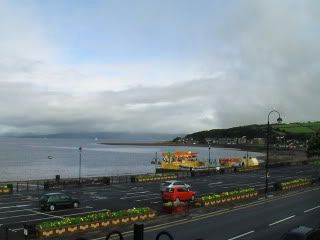 The Victoria Hotel, Largs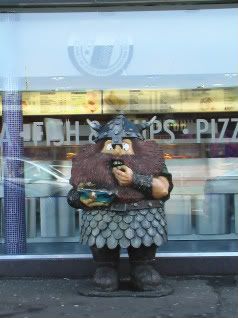 Viking Fish & Chips, Largs (My people preceded me!) On Saturday we heard that the Highland games were happening on the Isle of Bute, a short drive and a ferry ride, and more importantly, they culminated in a parade of dozens of drum and bagpipe bands. We took the ferry ride from Weymiss Bay to Rothsey and wandered up past an ancient castle complete with a moat, to the sporting grounds. Unfortunately, it was quite the opposite of a Tennessee August, and before long we were freezing our asses off while the kilt wearing officials on the distant stage gave out award after award to various Highland dancers. Finally it was the bagpipers' turn, and band after band marched out onto the field, wearing different tartan colors, but they too were all blessed with some award or another, and we needed to thaw out, plus we had to catch the ferry back in time for our gig. (Yeah yeah, a Minnesota boy complaining about cold while watching hundreds of people on the field wearing kilts. Speaking of which, I never got around to buying kilts while I was in Scotland. I'd better go back!) We wandered down to a coffee shop, past the crowds gathering for the parade, and then they came, band after band, led by staff-twirling and tossing mascots, the pipes and drums letting out a glorious sound, and I was smiling so wide that one of the drummers broke her stone faced concentration and smiled back. I was in Heaven, I'm still wondering how my songs would sound played with pipe and drum backing. On the ferry back we sat across from an old fellow decked out in full regalia, like, as Rob tells me Harry Lager, a popular music hall comedian.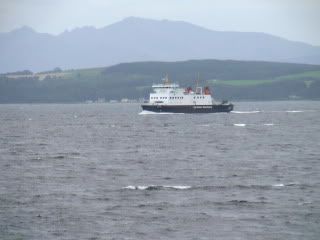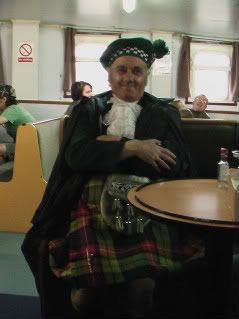 Largs reminded me of playing in little northern cities years ago, places like Superior Wisconsin, people coming in from the cold on a Saturday night or Sunday afternoon for beer and some songs, never quite thawing out for most of the year. Even the flats had that old rock and roll feel to them, parties seeping out of the walls. In Largs, the musicians and bar staff would all gather in the upstairs bar after hours for a few more drinks and either fine Indian take-away food or a good meal cooked by Jill, Tam's wife. On Monday morning Phil, Rob, Peter, Laurie, and I headed out for Stranraer, where we were catching the ferry to Belfast. On the way we happened upon the ruins of Crossraguel Abbey just past the River Doon (Bonny Doon!). We had a private tour, and took a little video footage of me playing dobro, part of a video collage I've been making over the past few years.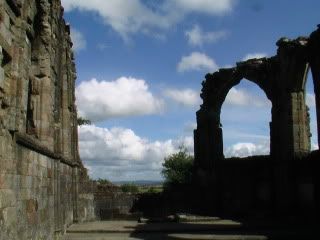 Crossraguel Abbey, Scotland After spending the night in a B & B in Stranraer, we boarded a huge ferry to Belfast. We sat with a pair of Scottish horse traders who owned a gypsy wagon, which perked up Rob's ears, just the thing to draw attention to his traveling musical medicine show. When we were approaching Belfast, I looked at a map and saw that Carrickfergus was on the north coast of the bay. I first heard Sheila Lawrence sing that song beautifully at a Pat Gallagher St Patrick's Day gig, and found the Van Morrison & Chieftains version, and I even tried warbling it myself a few times ( though "I'm drunk today, and I'm rarely sober" is one of the few lines that sticks with me.) Just the first of many discoveries ahead. We wound out way southward out of Northern Ireland, not even noticing the border, and headed to the prehistoric burial mounds at New Grange. There were three sites, and the tours for the New Grange mounds were sold out, so we caught a quick bus for the final tour of Knowth. The extremely dedicated residents from 3000 B.C. managed to transport massive stones great distances and place them in perfect alignment with the sun on summer solstice. The vertical stones that made up the walls of the tombs are etched with one of the biggest collections of Neolithic art. After our tour we headed for the still-unexcavated site of Dowth, another burial mound that archaeologists have yet to completely uncover. We explored, being careful not to disturb the artifacts left by the current caretakers, a herd of sheep.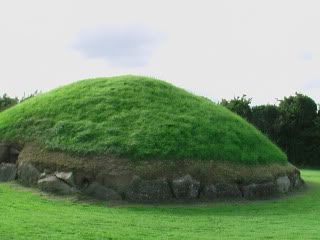 Ancient burial mound at Knowth, in Ireland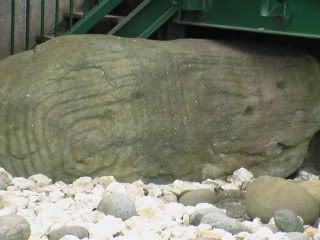 Neolithic Art, Knowth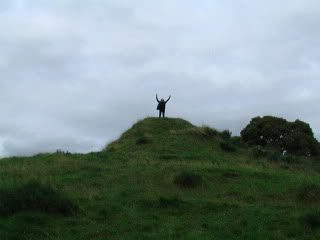 Me standing atop ancient burial ground at Dowth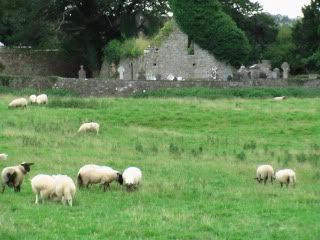 Our tour guides at Dowth On Wednesday, Phil, Rob, and I headed to the west Coast for a show at Dolan's in Limerick. Dolan's is a great venue, with a downstairs pub with food that features traditional Irish music seven nights a week, the music hall upstairs where Phil and I played, and a big rock and roll room out back. Mick Dolan and his crew welcomed us heartily, and after sound check Phil went to the dressing room to gugg (warm up his voice) and I headed off to explore the immediate area. When I returned, I struck up a conversation with a Nick Lowe look-alike named Bof and his friend Jo. After our set Bof heard we hadn't secured lodging for the night and invited us to stay, so after the show we popped over to his flat. Bof worked for a few circuses in the past and one of his jobs was taking care of an elephant in a Dutch circus, so his place has cool elephant carvings everywhere.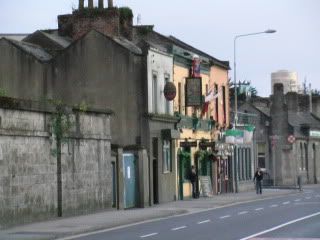 Dolan's, Limerick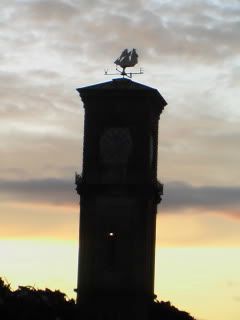 Clock Tower, Limerick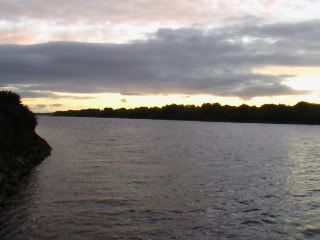 The River Shannon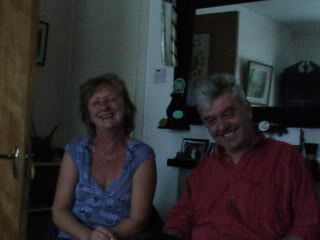 Our new friends, Jo & Bof We headed next to the city of Cork in the County Cork, stopping on the way for a morning repast on a little side road near Churchtown.
Chef Robert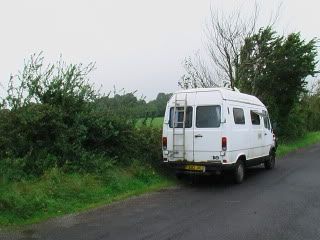 The restaurant at Churchtown
The restaurant's sign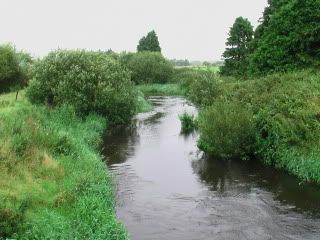 The view from the restaurant