New Tom Mason Solo Instrumental CD:
Slide Guitar Meditations- Tom Mason Voyages
"Sail Again", the new CD from Tom Mason and the Blue Buccaneers, is available now!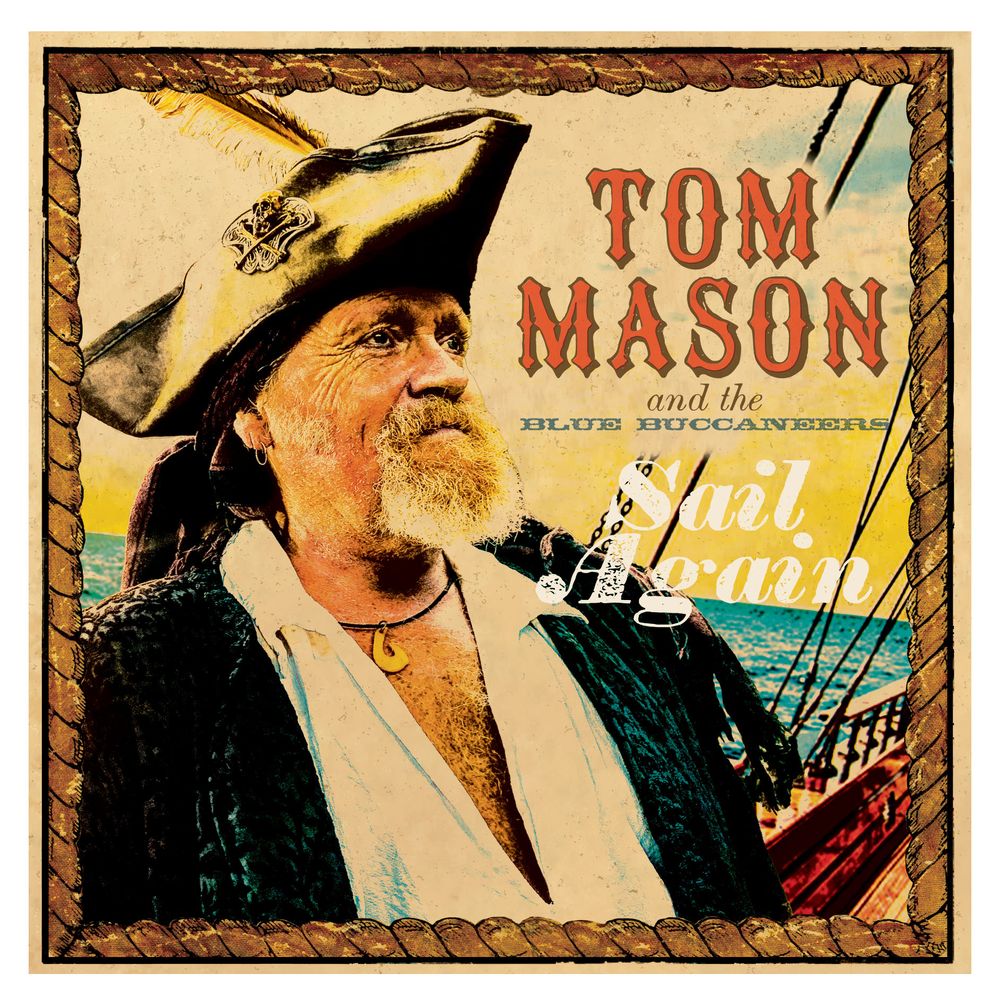 The new Tom Mason and the Blue Buccaneers CD "Sail Again" is available now!
Ten original songs, starting with "Tall Ships", just in time for our performances at the Tall Ships Cleveland Festival July 8-10 2022. Order below, download at Bandcamp, or listen on streaming sites and leave us a tip in the tip jar on this page. 
Huzzah! Thanks for coming to see The Blue Buccaneers this summer and fall! We had a wonderful time!
A Galleon of Gratitude While The Captain Heals 
 While sailing solo and doing my best to avoid the Sea of Corona, I somehow managed to cross the Tropic of Cancer. To be specific, stage 4 colon cancer, with a bit drifting into the liver. (Why couldn't it have been semi-colon cancer?!)   I've been extremely lucky:  last summer Director Jim Warren and Nashville Shakespeare Festival artistic director Denice Hicks gave me full support, allowing me to continue as Feste and as music director in "12th Night" while undergoing chemo.  Michael Webb, Jeff Thorneycroft, and all the musicians and singers involved help me get the CD "What You Will" out and ready for opening night. The crew of the Blue Buccaneers did so much to make it easy for me at the Pilgrimage Festival, the Tennessee Medieval Faire, and a Christmas show, and my wife Whitney, along with my family and friends have made the day to day far less taxing. I've also been lucky to have health insurance thanks to the Affordable Care Act, and I've received great assistance from two wonderful organizations, Music Health Alliance and Musicares. 
     My chemotherapy continued through early February, and I'm due to have surgery in late March, and I'm very optimistic.  I'm writing and recording for both a solo CD and a new Blue Buccaneers CD. We're returning to the Tennessee Pirate fest in May, we have midwest tours in the summer including the Minnesota State Fair, and we're back in Panama City Beach in October.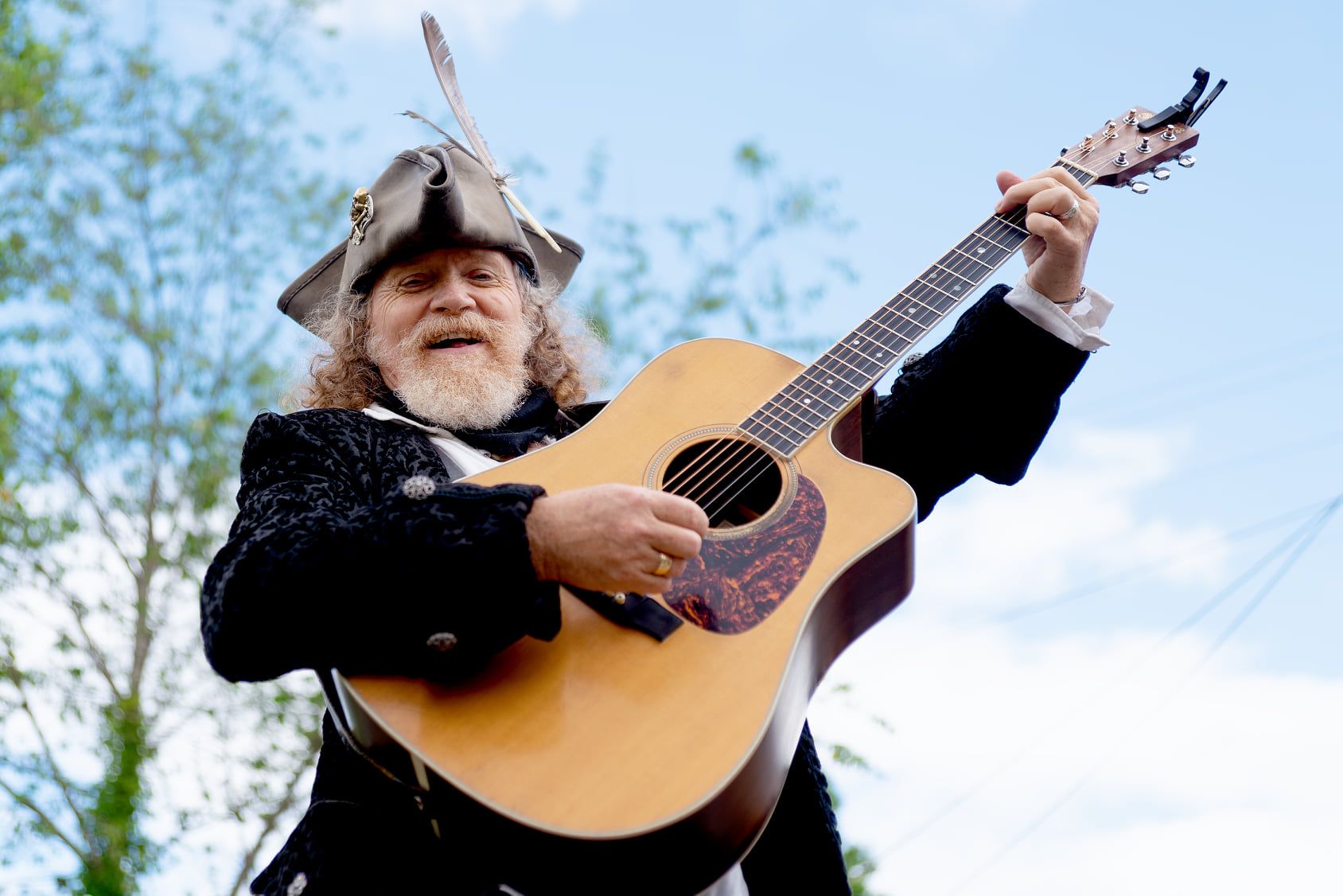 Some friends have set up a GoFundMe campaign to help us through the coming months. I'm am so grateful and blown away by the response. Thanks so much for all who have given. Here is the link: https://gofund.me/bccfe419
    Thanks for all the love and support. I feel it every day, and can see the sails approaching on the horizon, ready to get us all sailing again. 
Luckiest Guy Around!!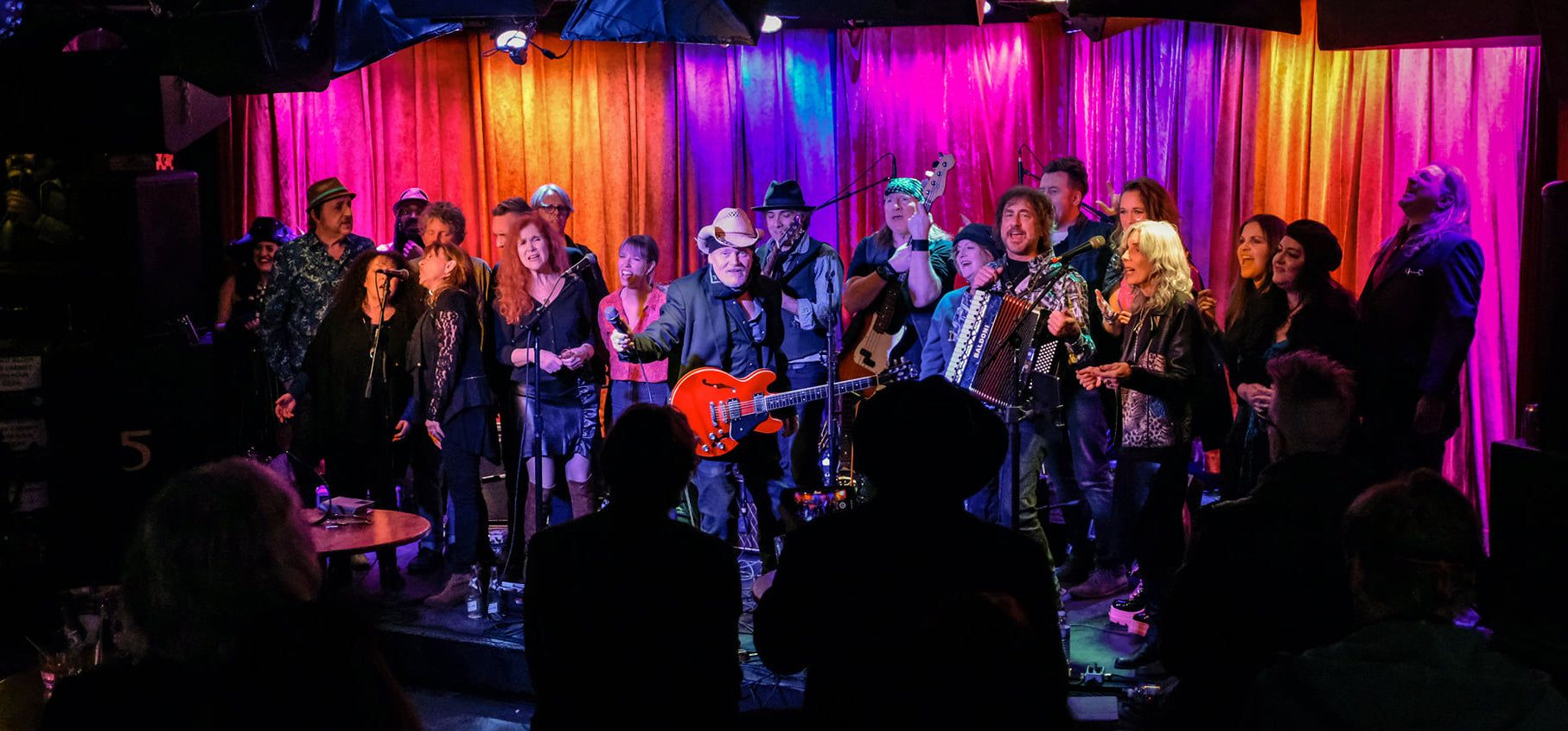 (Photo Madison Thorn)
On February 6th I was given the greatest surprise party a songwriter could get: my friend  Jeff Thorneycroft got a great band together and invited performers to learn one of my songs of their own choosing and play them for me at the 5 Spot in East Nashville. I was blown away. This is an honor usually bestowed on either successful writers with well-known bodies of work or recently deceased ones, and I fit into neither category, last I checked.
The band was Gary Goodlow and Irakli Gabriel on guitars, Pete Pulkrabek and Josh McEwen on drums Jeff Thorneycroft and Daniel Seymour on bass, Sage Snider on violin, and Michael Webb on accordion.
The singers are all distinctive artists: Ted Drozdowski, Jennifer Vazquez, Curt Perkins, Jan Petter Ringvold & Colleen McFarland Ringvold, Gina Sicilia, Michael Supe Granda, Conrad y Skordalia (David Conrad and Rebecca Weiner Tompkins), Amelia White, Donna Frost with co-writer Jack Kingsley on guitar, Megan Palmer, Laura Rabell, Sheila Lawrence and Vickie Carrico, Mark Andrew Miller, Jeff Thorneycroft, and Sage Snider. My wonderful stepdaughter Erika Justine Worley edited the footage taken by her husband Marshall Lee Bricker, Deidre Riegel Sayko stage-managed, and my wife Whitney and Jeff tried to invite people without ruining the surprise, no small feat. Thanks to all who participated and to those who came or would have come. I feel lucky every day.  
             Here is a link to Erika's video of the show: https://youtu.be/jArYQg3M1KY  A huge thanks to Jeff, the band, and all the artists!
Virtual Tip Jar
While we purport to be pirates, we seldom engage in actual criminal acts, and often survive be the generosity of others. With the advent of people streaming our music for next to nothing, it has become difficult to survive as artists. Here is your chance to invest in us, to be a patron of the arts, by means of a virtual tip jar. Thanks in advance!
We had a fantastic time at the Tennessee Pirate Festival and at the Gathering of the Sails in Des Moines Iowa in May. (Photos by Trent Eades)
Here's "Little Elvis, King of the Elves" the first video from "Under a Mistletoe Sky". Share away!